Bondage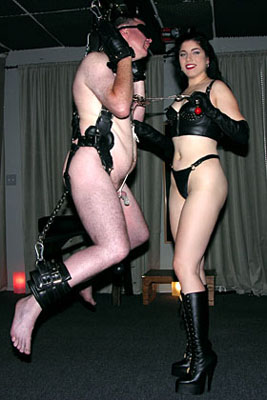 Bondage is a general term that refers to any form of restraint I employ in my sessions. Many items can be used to restrict movement, but the most commonly requested in BDSM are rope, leather restraints, or latex in various forms. I enjoy using all of these materials during my sessions, but some are more appropriate than others. What about plastic wrap, duct tape, or chains you say? Just pick your material and I can make your escape impossible!
I have a wide variety of leather bondage items I have collected over the years. Hoods, arm binders, belts, cuffs, mittens are just a few.
My current location has multiple rooms with a variety of furniture available for bondage. Sitting, reclining, inescapable, captivity--you name it, it's there. Care to be secured to an antique barber chair? Do you desire to be secured to a full-sized bondage bed? What about biding your time in a cell with only a small space in the door for light? Check out the link below for a full description of each room at Blackthorn. Extended bondage scenarios are definitely available.