CBT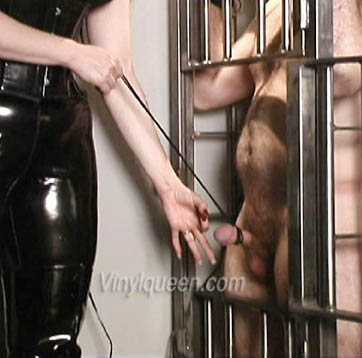 CBT is the term most often used for genital torture. CBT in its elongated from translates to COCK and BALL TORTURE. I can be as mild or severe as necessary with this type of behavior. From mild flogging that merely warms the surface of the skin, to 6 lbs. worth of weights attached to a parachute, there is a wide variety of sensations and devices that can be utilized during this activity.
The types of implements and methods I employ in CBT are varied. I am a big fan of genital bondage and restriction. I can utilize cord to tie up the genitals, or various toys are at my disposal to keep things where I want them. Some of these items are Kali's Teeth, Cock Cages, Vices, small leather straps, and latex bands. I also have parachutes to suspend weights, and clamps of various strength for more severe sensation. Don't forget that good old-fashioned fingers can be quite formidable in CBT. Pulling on the scrotum is a favorite past time of mine. There is something so satisfying about getting my hand around someone's balls and, well, you know... The only thing I like better is when I trample or kick you into submission!
My slave gallery has many more depictions of the types of behaviors I have mentioned here.