Crossdressing and Feminization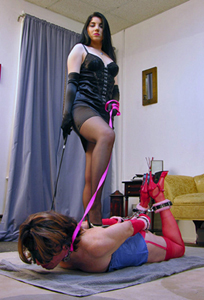 I am dedicating a special page to one of my favorite types of play: feminization. Since I get quite a few questions about what exactly that term means, I figured I would address them here. First of all, just because you have a fantasy about dressing up in women's clothing doesn't mean you are gay. If you were gay, then you wouldn't be attracted to women--now would you? Once you can get beyond that hang up, you can move on to how you want to explore discovering your feminine side. I make two distinctions between the types of play I encounter in the realm of feminization: forced feminization and consensual cross-dressing.
Forced feminization is where you act like you don't really want to be put into women's clothing or lingerie. Role-playing is often coupled with this type of scenario.Feminization is used as more of a punishment and act of humiliation than a reward in these scenarios. Consensual cross-dressing generally means that the submissive actually "wants" to wear women's attire. I affectionately call these folks "sissies." Our time spent together can be light-hearted and playful, or strict and demanding. Regardless of what we do together, I will always be the one in control
Feminization can range from you simply wearing panties and nothing else, or it can involve a full transformation. Sometimes a business traveler is in town and feeling wild so he has me transform him into someone who could pass for a woman in public. Then we venture out and see the reaction "she" gets while we are together.
Most of the scenes I do fall somewhere in between the two extremes. I have an extensive wardrobe available for cross-dressing--ranging from lingerie and fetish items to more conservative attire. There are also wigs, shoes, and cosmetics available to make your transformation complete.
So if you have had the unfulfilled fantasy of wearing women's clothing, or if you put on a silk nighty every evening before bedtime, you might want to see what it's like to act out some of these behaviors with a professional dominatrix such as myself. I can give you makeup and clothing pointers, or I can take your mental space to new depths of kink.