Humiliation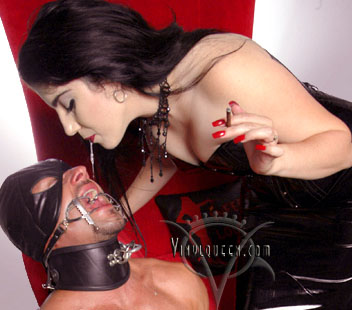 Humiliation is an often confused term in BDSM. It is also known as degradation, ego-abasement, and embarrassment. The most effective forms of this type of play cause the submissive to enter into an arousal state that he wouldn't readily experience in a vanilla relationship. One might be very comfortable with his self-esteem, but hearing me refer to him in a degrading manner can flip a switch in his mind. I try to find out what buttons need to be pushed when this type of behavior is requested: Will it be your genital size, sexual fantasies, or secret practices? The more information I have about you and your background the better.
Besides verbal humiliation, there are also many acts that are considered to be humiliation by themselves. Once again, the context is important. Wearing women's lingerie in my presence might not be that embarrassing, but what about in the presence of others? What if I made you eat out of a dog bowl? Forced feminization and puppy training are two popular forms of humiliation that can be conducted in my presence, or we can bring them elsewhere. Public humiliation is a vast area that can include nightclub visits, shopping trips, or something as simple as being my foot stool in a public park.
Sometimes I like to randomly insert specific acts of humiliation into a session to reassert a sub's position under me: face-slapping, hair-pulling, boot-licking, and occasionally spitting. I can also turn you into an object for my pleasure. Will you be my footstool or ashtry? How will you being uncomfortable please me?