Slave Training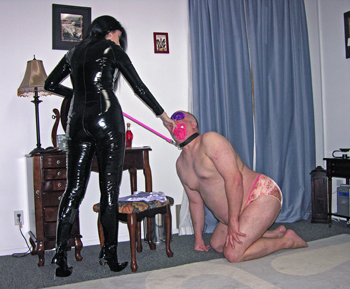 I have engaged in serious slave training a few times over the course of my career. These experiences have helped me to formulate a process that will achieve my goal of training someone to serve me effectively.
I will start out by stating that I am extremely selective with those who wish to embark on this type of training. This is NOT a program for novices. If you have never served a Professional Dominatrix before, then you will need to provide references from the lifestyle Mistresses you have served. I will follow up on these references to verify your claims.
Those who have seen Pro Dommes for sessions in the past will need to provide references as well. This is to insure that you're not too needy, a problem client, etc. Once again, I will follow up on these references. If other Ladies don't have good things to say about you, then why would I want to take you in?
You must be prepared for a level of transparency of unprecedented magnitude. Slave training is not for those who want to remain discrete. The clients who show up every few months can remain hidden behind online handles, email addresses, and phone numbers. Slave training is a deeper level of commitment and I can't possibly train you if I don't even know your real name. I offer a multi-level program that I will happy to discuss privately via email or during a phone session.