Trampling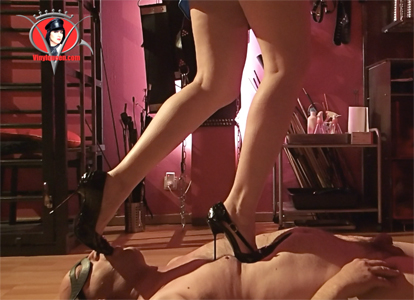 I consider myself to be an expert on trampling. Actually, I am more of a legend. I am known across the world for not only my skill, but my pure love of this activity. I challenge you to find someone still active who can match me in this realm. I have done it so many times and with so much variation, that I feel I can give a new outlook on this behavior. Some of the diverse ways in which I have walked all over submissives include:
high heels in varying height
tennis shoes (this was for a step-aerobic routine done on a slave's body)
stockinged feet
bare feet
boots
Role-playing can be successfully integrated into certain trampling or crushing scenarios. I have participated in various giantess fantasies.
I enjoy the look of fear that the person under my feet gets when he believes that a woman 50 feet tall is going to crush his body to a pulp. I am willing to crush objects and food items during these types of sessions, but I will not crush live mammals.

Trampling photos, discussions, and more!